US President Donald Trump criticized the World Health Organization (WHO) over its handling of the COVID-19 pandemic.
"The W.H.O. really blew it. For some reason, funded largely by the United States, yet very China centric. We will be giving that a good look. Fortunately I rejected their advice on keeping our borders open to China early on. Why did they give us such a faulty recommendation?" tweeted Trump.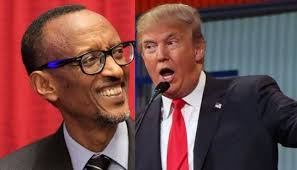 Trump even threatened to cut U.S. funding for the agency."They called it wrong. They really – they missed the call. And we're going to put a hold on money spent to the WHO. We're going to put a very powerful hold on it and we're going to see,"he said.
Its this tweet by Donald Trump that really annoyed Paul Kagame.He really disapproved Trump's statement and defended the WHO .
In Africa the world health organization is really helping in fighting the pandemic.Paul Kagame responded to Trump telling him to spare 'us' from politics.Kagame said at the moment focus should be on fighting the coronavirus which continues to ravage the world instead of politicization of the crisis.
Its an important lesson that Trump needs to learn from our hero Paul Kagame.Avoid politics and fight the pandemic.